By Joel Schamroth and Lucinda Scharff
With 1960s technology the status quo for communication in hospitals, it is no surprise that the NHS has a WhatsApp problem. The recent article by O'Sullivan and colleagues (1) published by the BMJ further emphasises the point. Instant messenger use is widespread and deeply ingrained in the workings of the modern NHS.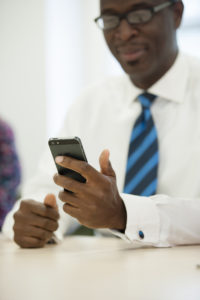 Our own UK wide data supports that of our Irish colleagues. Gathering data from over 60 trusts we found that 91.9% of doctors surveyed reported using some form of external instant messaging app at work. More importantly 83.3% had sent or received an instant message containing patient identifiable data (PID).
Headlines about 'rampant use of WhatsApp' will garner clicks and attention, but this needs further examination. Discussing 'clinical information' is a broad term, which must be unpacked if we are to understand how WhatsApp is being used, when this is inappropriate and how we provide clinicians with solutions.
In many cases, WhatsApp simply replaces the informal verbal communications within teams. It's no secret that hospitals have become increasingly busy (2), with teams often spread across multiple wards. Decisions must be made at a faster rate, with colleagues who are not physically present. The minutes saved by sending a quick message to a colleague asking whether the CT has been done yet are invaluable, when one considers that the alternative requires finding a landline, sending the bleep and interrupting their workflow. These communications would never have been documented in the patient record, and whilst they relate to a particular patient, do not need to contain PID. However the anonymisation involved – initials, bed numbers, used by doctors on instant messaging services means there is room for error.
WhatsApp becomes significantly problematic when PID is in play. Here, WhatsApp encroaches on the existing formal communication systems where record keeping and a paper trail are deemed essential. The same motivation for WhatsApp use, speed, is again often critical. There are numerous anecdotal incidences of patients being transferred for urgent Primary Percutaneous Coronary Intervention based on WhatsApp images of ECGs, because doing so is faster and more immediately accessible compared to faxing or emailing. The lack of a paper trail and transparency around this decision is a common example of how off-licence use of instant messaging apps can be highly problematic.
So how can we solve this? The intensity and complexity of modern healthcare demands communication solutions that offer the speed and utility that doctors have come to expect from instant messengers such as WhatsApp.
As Dr Matt Morgan says in his article WhatsApp Doc?
"Restricting their (Message Apps) use is fine but there must be a viable alternative provided".
However this mandates a tool that is designed specifically for this purpose, with the appropriate safety measures to ensure patient data remains secure. In other industries, platforms like Slack provide seamless communication between teams which can be adapted and tailored to the needs of the organisation using it. The frontline staff of the NHS are long overdue a similar solution.
Because we felt very strongly that WhatsApp had the potential to put patient data at risk  we decided to become  part of the solution to this problem.  So together with a team of software developers we have created a mobile instant-messaging app which we called Forward.
We are not the only start-up doing this and our app like other bleep replacements being developed, such as  iBleep  being piloted in Warrington Hospital,  seeks to keep the best bits of  WhatsApp which is its speed and simplicity but in a way that is secure and does not put patient data at risk.
We are happy that others are also trying to solve the problems with using bleeps, as we feel that the more  start-ups like us there are  who are working to solve this problem then the better chance we  have at doing it.  As if we don't then clinicians will keep using WhatsApp and this issue will persist."

Conflicts of Interest. Authors Jo
el Schamroth and Lucinda Scharff are junior doctors who also work for Forward, a mobile application offering compliant, secure instant messaging for clinical teams.